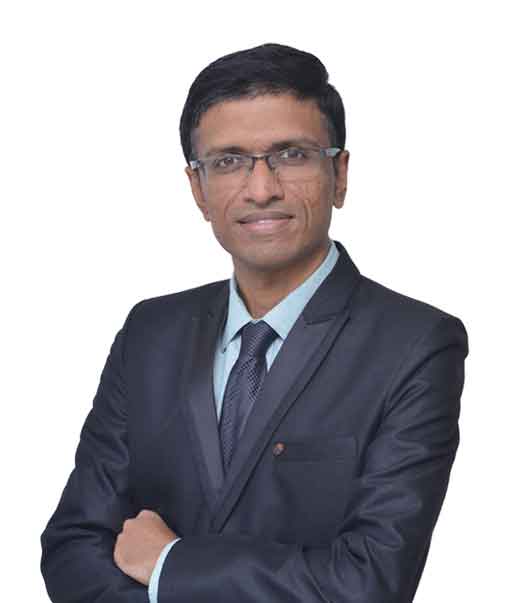 Dr. Nikunj D. Patel
M.S.,F.N.B., Consultant Surgical Gastroenterologist & Laparoscopic Surgeon
M.S.,F.N.B., Consultant Surgical Gastroenterologist & Laparoscopic Surgeon
M.B.B.S. and M.S. in General surgery from prestigious B.J. Medical College, Ahmedabad.
Surgical Gastroenterology and Laparoscopic surgery.
Dr. Nikunj Patel is an experienced surgeon in gastrointestinal and laparoscopic procedures, having performed over 3000 surgeries. He is skilled in managing both basic and complex gastrointestinal conditions. To his credit, The patients have benefited greatly from his surgical skills and also the Patients appreciate his calm and reassuring approach.
He received specialty training in Surgical Gastroenterology and Laparoscopic surgery at 
2. He completed the fellowship programme 
3. Dr. Patel was trained in various basic and advanced Laparoscopic and GI Surgical procedures, including those for cancers, under the guidance of Dr. C. Palanivelu, a world-renowned Laparoscopic Surgeon.

4. He also acquired training in various endoscopic procedures.

5. Dr. Patel has published several papers in international journals and presented them at various conferences.
Laparoscopic radical cholecystectomy for carcinoma gall bladder.
Total Laparoscopic Inguinal Hernia Repair in Children : A Decade Long Experience.
Total Laparoscopic management of choledochal cyst – outcome analysis in 110 patients from a tertiary care centre.
Upper GI endoscopy, sigmoidoscopy.
Advanced laparoscopic procedures:
Fundoplication, cardio myotomy, TVGJ, bariatric procedures, colorectal procedures, HPB procedures.
Basic laparoscopic procedures:
Appendicectomy, cholecystectomy, inguinal hernia repair (TEP/TAPP), ventral hernia repair (IPOM).
Dr. Nikunj D. Patel is a consultant GI & Laparoscopic Surgeon.
2. He is currently available at
3. He is a full-time consultant at
All type of GI surgical procedures.
Basic Laparoscopic procedures.
Advanced Laparoscopic Upper GI and Bariatric surgery.
Laparoscopic Colorectal surgery.
Hepato-pancreato-biliary procedures.
Diagnostic and therapeutic endoscopy.